Spotlight On: Honeysuckle Weeks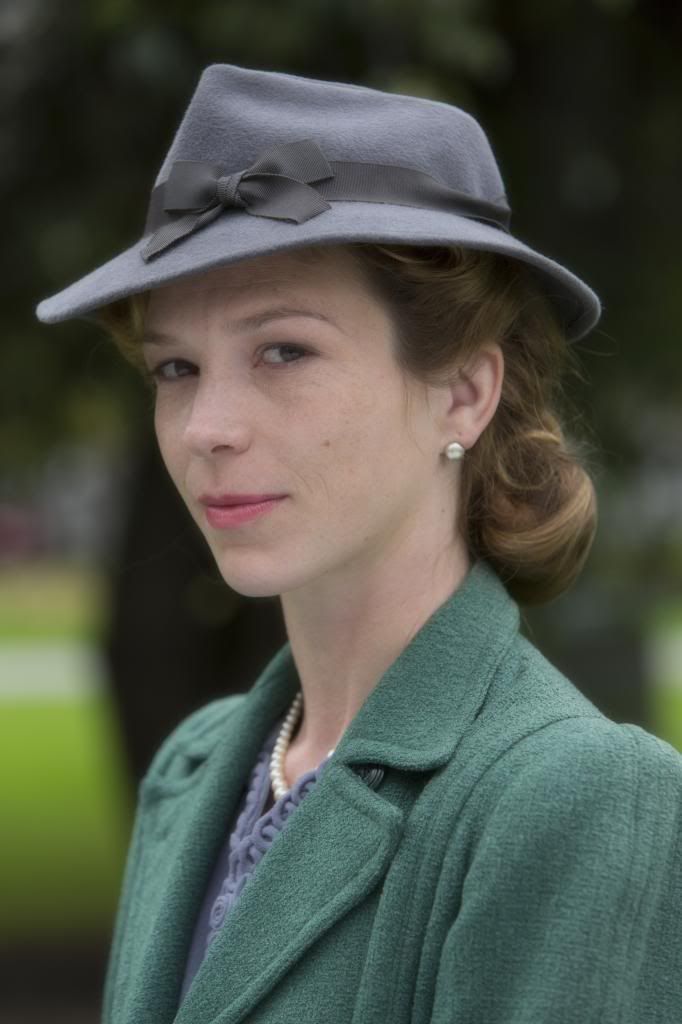 Date Of Birth: 1st August 1979
Born: Cardiff, Wales
Birth Name: Honeysuckle Susan Weeks
Height: 1.68 metres (5.6 feet)
Biography
Named after the honeysuckle flowers that were in bloom at the time of her birth Honeysuckle Weeks, has made a name for herself in her starring role as Samantha Stewart in Foyle's War, the BAFTA-award winning detective series set during World War II (and, in the latest series, The Cold War)
Her first major acting role was the lead in an adaptation of Anne Fine's 'Google Eyes' in 1993 and since then she has appeared in many programmes, including children's series 'The Wild House', and the hugely popular crime series Midsomer Murders and films including Lorna Doone (2000) and My Brother Tom (2001)
Filmography
1993: Google Eyes (TV Series) played the part of Kitty in four episodes
1994: A Dark Adapted Eye (TV Movie) played the part of Faith
1995: The Ruth Rendell Mysteries (TV Series) played the part of Young Petra Sunderton in the episode 'The Strawberry Tree: Part 1'
1995: The Bill (TV Series) played the part of Lucy Dean in the episode 'Deadline'
1996: The Bill (TV Series) played the part of Deborah White in the episode 'Cuckoo'
1997: Have Your Cake and Eat It (TV Series) played the part of Sophie Dawson in four episodes
1997: Ray Nymph (TV Series) played the part of Millie in three episodes
1997-1998: The Wild House (TV Series) played the part of Serena in eighteen episodes
1998: Close Relations (TV Series) played the part of Imogen in five episodes
1998: The Ruth Rendell Mysteries (TV Series) played the part of Jenny in the episode 'The Orchard Walls'
1999: Midsomer Murders (TV Series) played the part of Fleur Bridges in the episode 'The Blood Will Out'
(click here to purchase the dvd)
2000: Casualty (TV Series) played the part of Diane Gibson in the episode 'Phoenix'
2000: Lorna Doone (TV Movie) played the part of Annie Ridd
2001: My Brother Tom (Film) played the part of Sarah
2002-2013: Foyle's War (TV Series) played the part of Samantha Stewart / Sam Wainwright in twenty-five episodes
(click here to purchase the dvd)
2005: Red Mercury (Film) played the part of Clarissa
2005: Agatha Christie's Poirot (TV Series) played the part of Miss Dawes in the episode 'Cards On The Table'
2006: Where The Heart Is (TV Series) played the part of Carly in the episode 'Don't Look Back In Anger'
2007: The Inspector Lynley Mysteries (TV Series) played the part of Tania Thompson in the episode 'Know Thine Enemy'
(click here to purchase on dvd)
2009: The Bill (TV Series) played the part of Julie Nowak in two episodes
2011: The Wicker Tree (Film) played the part of Lolly
2012: The Charles Dickens Show (TV Series) played the part of Mrs. Beeton in the episode 'Christmas'
Trivia
*Honeysuckle was educated at Roedean School and Pembroke College, Oxford, where she read English (graduating with upper-second class honours)
*Honeysuckle spent a year in Florence studying the history of art. While there, she wrote a play and put it on in a monastery because she got bored of going to the pub every night.
*She has a younger brother and sister, Rollo Weeks and Perdita, both of whom have also developed successful acting careers.
*In 1997 Honeysuckle and Perdita were both in Catherine Cookson's 'The Rag Nymph', wherein Perdita played the younger version of her sister's character.
*Her husband Lorne Stormont-Darling is a hypnotherapist and jewellery designer.
Personal Quotes

On the art of acting
"I think to be a good actor you need either a good experience of life or education, or both."
On her name
"I suppose I have been given stick about my name at times, but everyone is teased about something. It can sometimes be awkward, for instance when I am introduced to someone in a club. I have occasionally said my name is Holly."